Pack List for Casual to Moderate Hikes
From one filthy casual to another, this post intended to serve as a guide for the person that's gone on a hike or two already or is perhaps just thinking about starting; the person that is mainly interested in day hikes where you'll be back in your own bed by the end of the day. Once the interest in hiking sticks, it becomes a game of efficiency and preparation. So let's take a look at what you'll want to bring with you. Read until the end to see what kind of bluetooth speaker works best for hiking!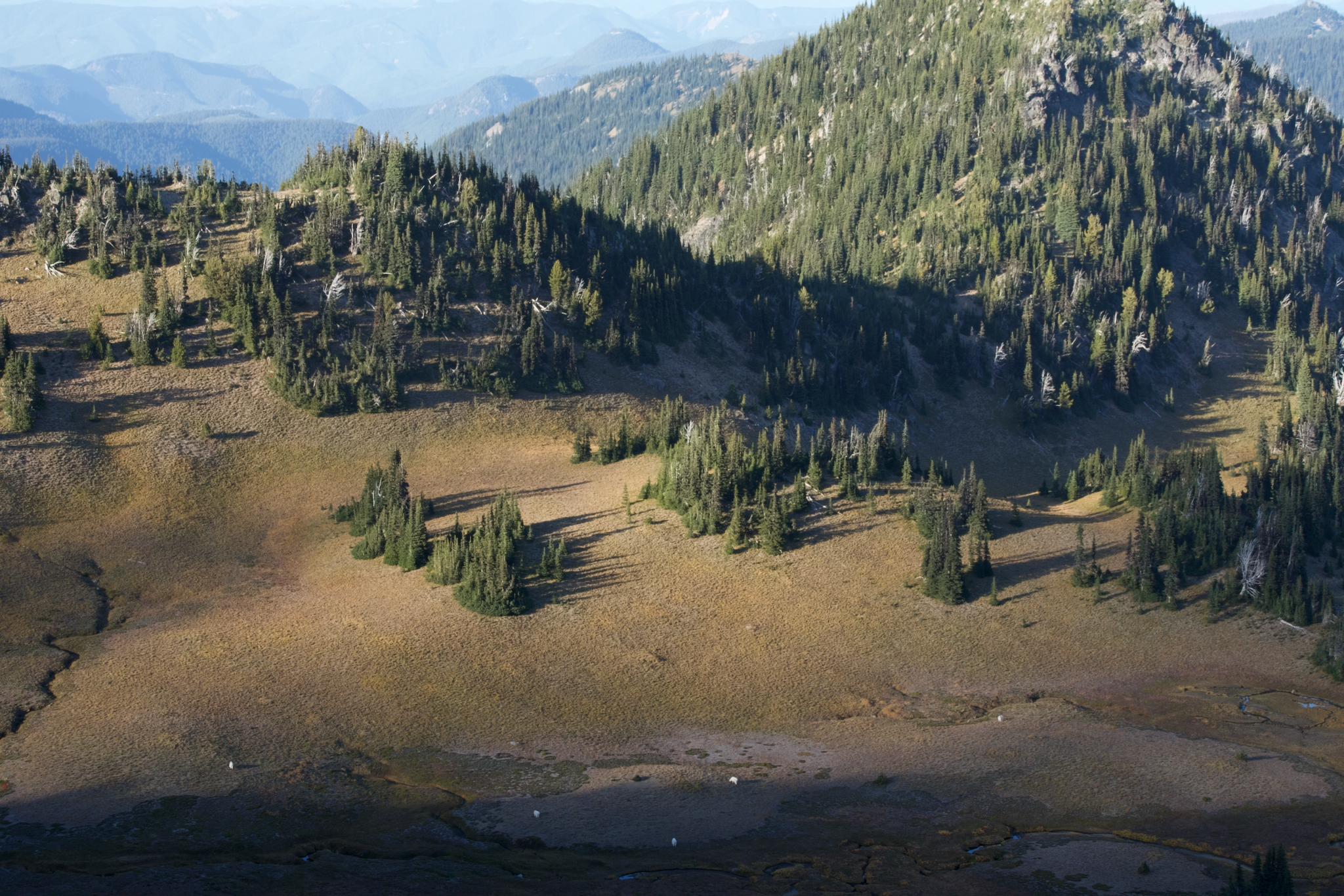 Most of my experience comes from the mountains in and around Washington and the Pacific Northwest where typical hiking season is from April to October. There are trails available outside of those times, but encountering snow becomes a bigger concern. So we're going to focus on the needs for main season hikes under 12 miles.
Weather, trail reports, and maps
The most important thing you can do before hiking is check the weather forecast. Weather means more than just precipitation and temperature; be sure to also check on:
fire advisories
road conditions and closures
wind conditions
sunrise/sunset time
Services like NOAA provide more accurate data than the Weather app on your phone. Other things to look for that you won't find on weather reports can be found on trail reports and crowd-sourced data on hiking services, such as:
snow/ice
bugs and mosquitoes
animal sightings (bears, elk, etc.)
overall trail conditions
trail maps
For these things, check out services like AllTrails or refer to local/state association websites. Be sure to download the trail map for offline use; this might be obvious, but you are not likely to get cell reception out in the forests and mountains.
Clothing
Make your clothing choices after you've assessed weather conditions. The best advice is to work with layers and avoid cotton. No matter how casual a trail you're hiking, it'll be a workout and you will sweat. The best thing you can do is get that moisture away from you because even on a sunny day, you might get to the peak and encounter windy, chilling conditions.
If it's not sweat keeping you moist, it might be the unexpected rain shower thanks to common mountain microclimates. A rain shell is an easy item to compress and stuff into the bottom of your backpack in case of emergencies.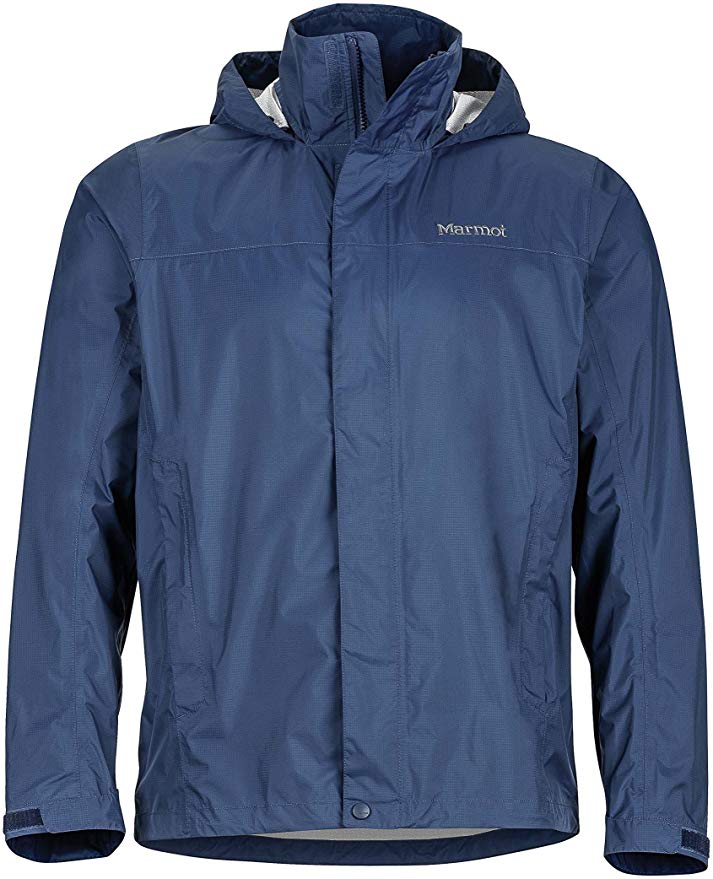 Before buying a rain shell, be sure to get one that comes with underarm vents, like the Marmot PreCip in men's and women's.
Shoes or boots
Above all else, you'll want footwear that gives your feet rigid support. This rules out sneakers, sandals, and tennis shoes. Trails are often covered in exposed tree roots and small rocks. The impact of stepping on tree roots and small rocks might seem negligible at first, but the support from your footwear will be more important the longer the trail is as you slow down and get physically exhausted, especially when descending from a mountain peak.
The biggest difference between hiking shoes and hiking boots is ankle support. Some trails use large rocks to gain elevation which means there are chances for rocks to shift and potentially roll your ankle; similar on trail descents when you're using your gravity to plunge to the next step down. If your ankle strength is a concern or the trails you're on are filled with these type of small boulders, get boots with full ankle support.
Another consideration when buying footwear is waterproofing. Commonly there are small streams to cross on a trail; they could be as small as a the remnants of snowmelt running off the side of the hill or a constant stream feeding into a larger river. Most of the time there is a rock path peppering the larger streams to help hikers safely cross.
Boots:
better resistance to water
full ankle support
heavier
Shoes: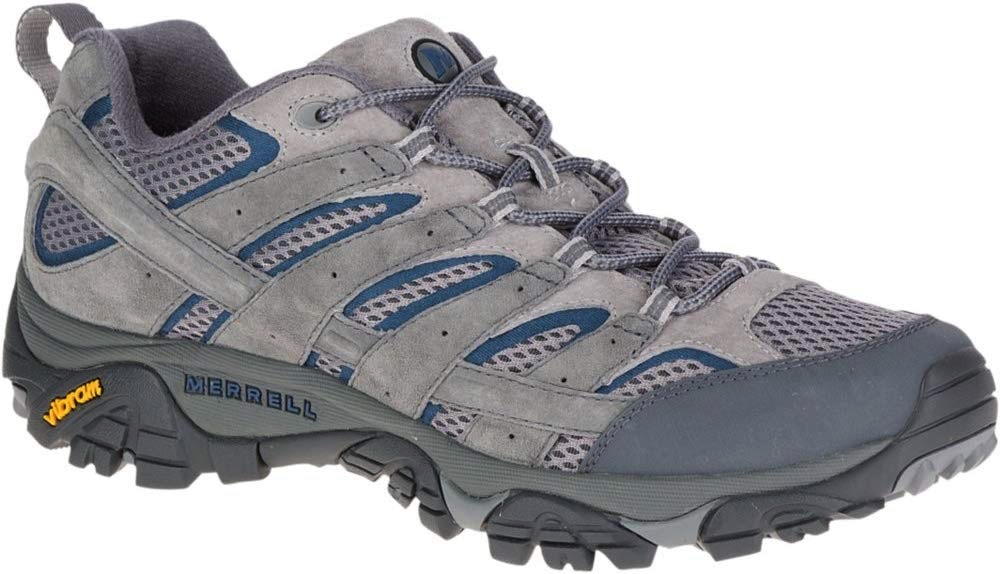 The exact Merrell hiking shoes I use are no longer on sale, but for a good comparable shoe, check out the Merrell Moab 2 Ventilator Low Hiking Shoes in men's and women's.
Socks
The necessary rigidity of your hiking footwear comes at the cost of comfort, so be sure to get a pair of thick, medium-weight wool or polyester socks to help cushion your feet. Avoid cotton! Whether you go with wool, polyester, or another material, be sure to target materials that are fast-drying which means no cotton.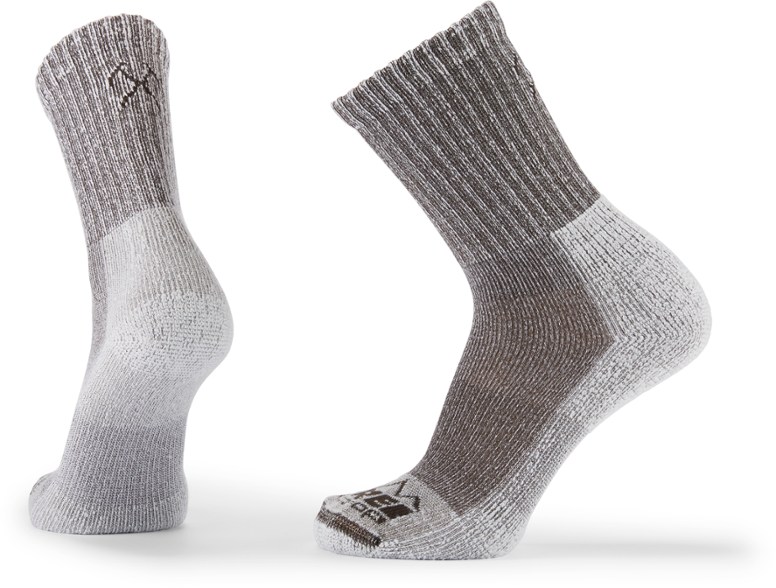 I swear by REI's fantastic in-house hiking socks. Their midweight socks make for a perfect blend of comfort, warmth, and dryness. Check out the COOLMAX Midweight Socks in men's and women's.
Poles
The best use for trekking poles is for occasions when you need a third point of contact with the ground; you're climbing over downed tree, over or down a big rock pile, crossing a stream over loose rocks, or just trying to slow your descent rate, and planting down that pole helps give you the stability you need to safely pass. Important to note: on your descent you should extend your poles
While not an absolute requirement for casual day hiking, they can make a huge difference when you start to fade toward the end of the hike. I vividly recall an occasion in Banff National Park with my girlfriend hiking down from the tea house at Lake Agnes where I offered her some poles to use down the icy, pre-season conditions. By the end of the hike, she would have wished she had accepted the poles sooner. Ouch!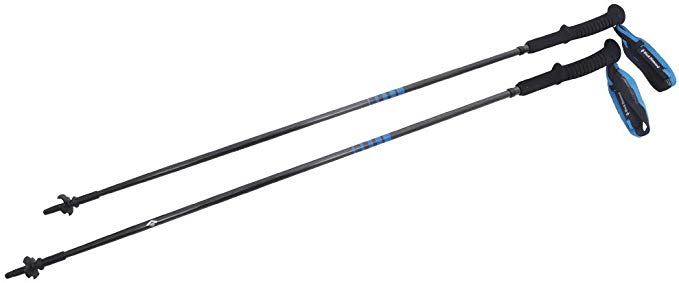 I don't like to cheap out on poles. You can really start to feel their weight toward the end of the hike, so opt for carbon fiber construction poles. Also nice are collapsible ones that can fit into your backpack when you're not using them. Check out the unisex Black Diamond Distance Carbon Z Trekking Poles.
Backpack
The first thing you'll notice when shopping for a backpack is that classification works based on capacity. For simple out-and-back day hikes, you won't need much larger than a 20 liter pack.
The next thing to look for is a pack with sternum and hip straps. In a long day hike, the weight bearing down on your shoulders becomes non-negligible. By using the body straps you more evenly distribute the pack load down toward your hips.
The attributes to prioritize:
While this comes down to personal preference, I gravitate toward the packs that include a compartment for a water reservoir (see the next section). Some prefer the packs with external pockets for carry a water bottle, but I'd rather spend those moments enjoying the scenery instead of popping open a bottle and awkwardly reaching backward to slip it back in.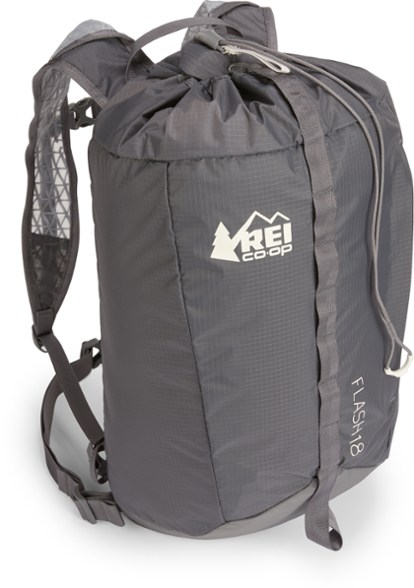 In my 18 L pack, I carry (ranked in order of descending size):
water reservoir
collapsible hiking poles
light jacket
rain shell
microspikes
snacks
sunscreen
headlamp
bug spray
If you think you'll struggle to fit your gear into a pack that size, consider getting a stuff sack-style backpack that uses a drawcord instead of a zipper to close the pack to squeeze in that one extra item.
Check out the REI Co-op Flash 18 Pack.
Water reservoir
Also known as a hydration bladder, it's the perfect upgrade for the casual hiker that would rather focus on the scenery than popping open a water bottle every time they want a drink. Like backpacks, these are also classified by their capacity. For simple out-and-back day hikes, a 2 liter bladder should work very well.
There are many choices available and all have their own unique selling points. Personally speaking, I don't think there's much to be gained by spending a bit extra on this: a bladder is a bladder. Two (very common) features to look for:
study backplate to help slide the filled bladder into your pack
backpack clip to keep the attached hose from flailing around while hiking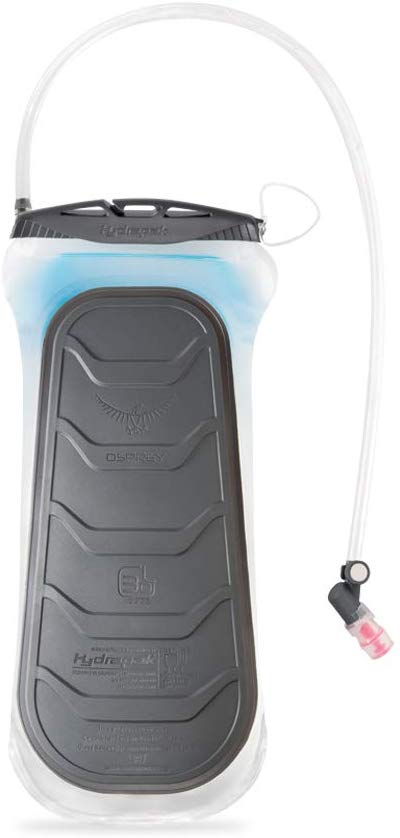 For a basic bladder that checks all those boxes, check out the Osprey Hydraulics Reservoir.
Food and snacks
Don't skip breakfast! Day hikes start early in the morning, so whether it's at your home or on the road, grab some protein to get you started on your long day.
For the hike itself, favor carbohydrates and protein. Best bang for you buck will be in the energy bars like Clif Bars, or if you want something organic then reach for the almonds and cashews.
A quick note about cleanliness and etiquette on the trail: nature is sacred and it's a privilege to enjoy it, and it's best when others can enjoy it without stepping over your energy bar wrapper or banana peel. Yes, banana peels too! It's compost and it will break down, but you're in the wild with many other creatures that are not used to bananas in their diet. Respect other humans and respect wildlife and leave no trace.
Headlamp
Up in the Pacific Northwest where summer twilight lasts well past 9 PM, you might not think to worry about visibility. Nevertheless, when the sun goes down, it goes down fast out in the woods and mountains. Even if you aren't planning on hiking that late into the evening, it's best to be prepared in case someone in your group gets injured and needs to take additional time getting down the trail.
Don't break the wallet spending on a headlamp. The best thing to look for is one that takes normal, disposable batteries. I avoid the rechargeable lithium-ion headlamps because when disaster strikes and the battery is drained, you're out of luck. Get an alkaline battery powered headlamp and carry an extra set of batteries to avert disaster.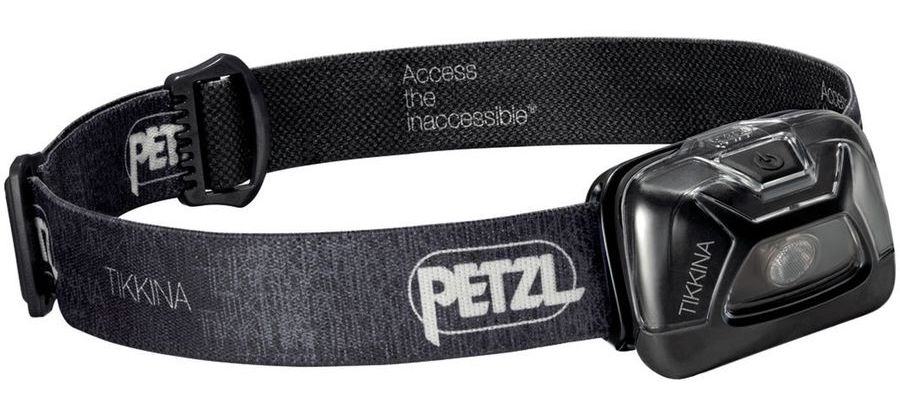 The Petzl Tikkina Headlamp is the best of both worlds: it works with both AAA batteries as well a rechargeable battery pack. It also produces like at 250 lumens which is more than enough for any day hike conditions in which you will find yourself.
Miscellaneous
The usual suspects to bring with you no matter where you hike:
sunscreen
bug spray
sunglasses
full tank of gas
A quick word on sunscreen: forest trails can quickly turn into exposed mountain-side trails where you suddenly have no sun shade. Additionally, mountain areas are prone to micro-climates, meaning an overcast weather can turn to blue skies in an instant. Always bring sunscreen.
Regarding bug spray: any type of insect repellent won't be 100% effective 100% of the time. However, if you have expensive equipment be wary of using DEET which can harm plastics. For something less abrasive to equipment try picaridin.
Camera
When there's so much to capture, it's hard to fit it all into 1 frame. That's why nature and wide-angle lenses go perfect together, especially so when you're capturing landscapes. Of course, one size does not fit all and you're the one holding the camera.
Starting this year, more and more smartphones were released that include a wide-angle lens. Frankly, those are probably good enough for you!
If you're looking for that upgrade to get those high quality prints, consider purchasing a DSLR or mirrorless camera. I'm partial to mirrorless cameras since they remove the complexity of a reflective mirror and they're available in a full frame sensor.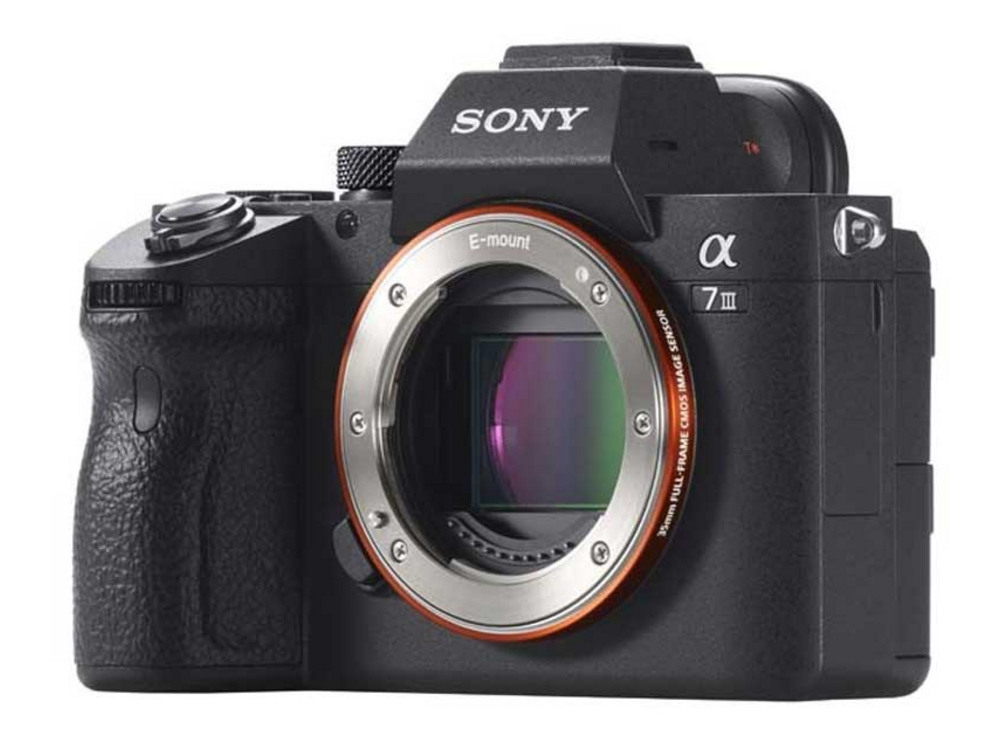 Keep an eye on the Sony a7iii that recently dropped in price by $200. I've been using it since last year and absolutely love it.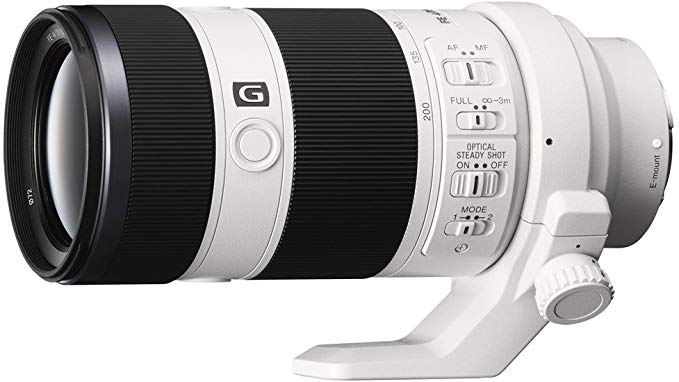 Which lens I take with me depends on the occasion: maybe I'm looking for dramatic long lens shot or perhaps I'm trying to capture a majestic mountainscape. For the former, I bring my telephoto zoom Sony FE 70-200mm F4 G, and for the latter I take my prime Sony 55mm F1.8 Sonnar T FE ZA. The prime's focal length is less-than-ideal for now, so I've got my eye on either a wide-angle zoom like the Sony FE 24-70 mm F2.8 GM or a shorter prime like the Sony FE 24mm F1.4 GM.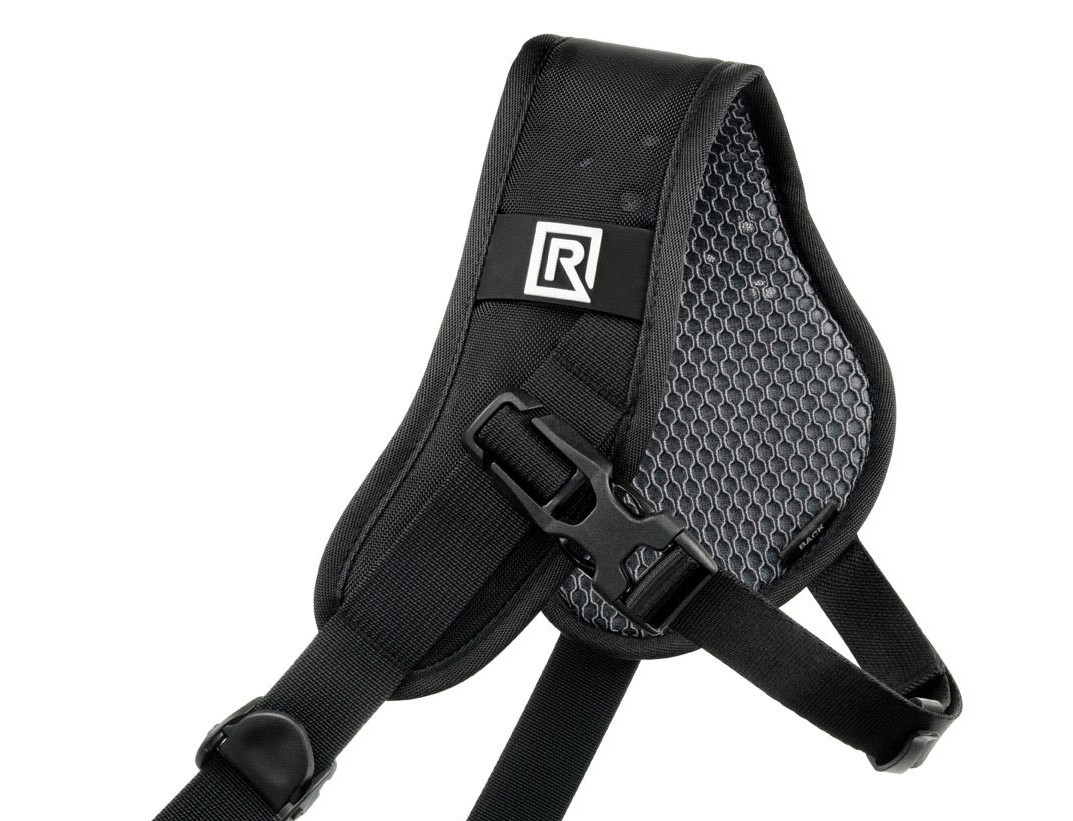 The callout on bringing the big lenses is it adds at least 1 pound to your pack, but if you already have that gear, you understand what you signed up for. I pair the extra weight with the BlackRapid Breathe Sport Camera Strap, which, as the name suggests, breathes very well during strenuous activity.
Summary
There's truly no substitute for getting out there and experiencing it for yourself. Address your safety the safety of others beforehand, and learn the rest along the way. To recap all the tips in an abbreviated form:
check weather the night before
fill up your gas tank the night before
download the trail map
rain shell
hiking boots/shoes
midweight socks
backpack
water reservoir
snacks
headlamp
sunscreen
bug spray
sunglasses
camera
Oh! I didn't include Bluetooth speakers in the list, what was I thinking! Let's cover that now…
Bluetooth speakers
No. None. Zero. Appreciate nature and respect others on the trail looking to escape the city.
---
comments powered by

Disqus